"
...a meditation...on Partition and its relationship to the immigrant experience...

— Brandon Yu, San Francisco Chronicle, 2017


Stories of belonging.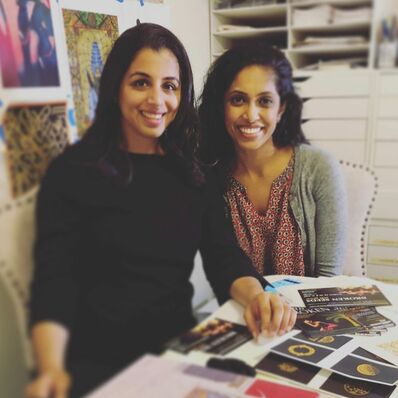 Nadhi Thekkek
(
Nava Dance Theatre
) and Rupy C. Tut (
Art by Rupy
) create Broken Seeds/Taking Root, a multi-disciplinary dance theatre production exploring the continuing impact of the 1947 British India Partition. Through bharatanatyam dance and mixed visual media, they examine the hyphenated-American, immigrant experience, linking it to the displacement of their ancestors during Partition. This creative inquiry sources poetry, eyewitness accounts, and current events to understand the current political climate while reflecting on what it means to belong somewhere.
Partition was one of the most formative events in South Asia's recent history, creating over 15 million refugees and leaving over one million people dead. Nadhi and Rupy have sourced eyewitness accounts from Partition collected by collaborating organization, the
1947 Partition Archive
(Berkeley, CA) and researched the current South Asian immigrant experience to understand how the feeling of displacement continues to shape identities today. Nadhi and Rupy use bharatanatyam, calligraphy, indian miniature painting, and spoken word to tie these contemporary narratives to their personal experiences as Americans of South Asian descent.
---
---
press kit.
---
producers.
Broken Seeds Still Grow and Broken Seeds/Taking Root are produced by Nava Dance Theatre and Art by Rupy.
---
The creation of this work was supported by the
East Bay Fund for Artists
through the East Bay Community Foundation,
Zellerbach Family Foundation
, William and Flora Hewlett Foundation,
Dancers' Group CA$H Grants
, and crowd funders. This project is fiscally-sponsored by
CounterPulse
. This iteration is also supported by the Califoria Arts Council and CounterPulse Co-Productions.
The premiere of this work was co-presented by South Asian American Digital Archive (
SAADA
), South Asian Americans, Leading Together (
SAALT
),
Berkeley South Asian Radical Walking Tour
,
Pioneering Punjabis Digital Archive
(UC Davis, MESA),
Jakara Movement
.
Consider making a tax deductible contribution to support the production and touring of this work. Individual contributions continue to be a crucial part of making this work come to life.
---
credits.
SHOW
Runtime: 70 minutes
Performed with live music
CREDITS
Creators/Directors: Nadhi Thekkek and Rupy C. Tut
Choreography: Nadhi Thekkek
Indian Miniature Painting/Calligraphy/Animation: Rupy C. Tut
Music Composition/Orchestration/Flautist: G. S. Rajan
Visual Art Projection: Darl Andrew Packard and Wolfgang Wachalovsky
Video and Editing: Kat Cole
Dancer Collaborators: Nadhi Thekkek, Shruti Abhishek, Vertika Srivastava, Lalli Venkat, Shelley Garg, Nitya Narasimhan, Kavita Venkateswar, Aishwarya Subramaniam
Musician Collaborators: Manasa Suresh (vocal), G.S. Rajan (flute), Akshaya Ganesh (nattuvangam), Rohan Krishnamoorthy (percussion), Michelle Ruttiman (cello), Chris Evans (cello)
Lighting Design: Richard Board
Rehearsal Directors: Sri Thina Subramaniam (Broken Seeds Still Grow) and Shruti Abhishek (Broken Seeds/Taking Root)
PR Manager: Mary Carbonara
Costume Design: Christopher Gurusamy
Costume Tailoring: Aahaaryaa Tailors (Chennai)
Funding: California Arts Council - Cultural Pathways, East Bay Community Foundation, Zellerbach Family Foundation, Dancers' Group CA$H Grants, City of Oakland's Cultural Funding Program, ACT Artshare Residency, CounterPulse House Artist and Co-Production Programs